The Chattanooga Ergostyle Adjusting Table line has engineered a product that allows the doctor to deliver and adjustment like never before. For years, many doctors of chiropractic had been convinced they needed only a bench. The problems chiropractors suffered from using only a bench suffer from neck, back, elbow, shoulder and wrist pain. The Chattanooga Ergostyle Adjusting Table line allows the doctors to deliver adjustments like never before.
What makes the ErgoStyle Table line stand out from others? The first thing are the features. All Chattanooga Ergostyle tables include seamless multi-density cushions, ergonomic control placement, robotically welded, powder coated frames, upgradeable modular drop and headpiece design and a whisper-quiet electric or hydraulic motors for quick, powerful elevation and tilt.
Comfort
Patient comfort was a crucial aspect of the design of theChattanooga Ergostyle line. Foam density was carefully chosen so that each patient was comfortable no matter their size, age or sex. Lying face down, patients notice soft foam on the face cushions. The armrests are angled, allowing the shoulder to be relaxed. Lumbar and pelvic cushions are firm to allow the best adjustment of these areas. The ankle rests extend and lower to help reduce tension on the hamstrings and the extra soft foam on benefits older patients.
Table Fit
Break-a-way/elevating chest section allows you to "fit the table to the patient." No matter the build of the patient, the Chattanooga Ergostyle line makes each table more comfortable for them. Moving the chest section up will help flatten the patient's lower back, while lowering the chest section will introduce extension to the spine. With the introduction of gas spring technology, we counter balance the weight of the patient, allowing the doctor to move the chest section up or down, "with the patient on the table."
Durability
The "long life" of each Chattanooga Ergostyle table is a testament to the quality alone. The bearing axis points, clean welds, powder coated paint, hardened bolts and the Swiss lifting motor are just a few of the outstanding qualities. With the modern design and manufacturing techniques, ErgoStyle tables bring a new standard to the industry. The market has crowned ErgoStyle the most innovative chiropractic table in the world. ErgoStyle continues to grow with the addition of new products, and new users worldwide.
Patient Convenience
The proper way to get on and off is in the elevated position. Flexion distraction on a table gives the doctor another treatment modality. Why not take care of 97% of the patients with flexion distraction? Best of all, while the elevation feature is great for the patient, it's a back saver for the doctor!
Appearance
The beauty of these tables is not a fluke. The flat black paint on the upper half of the table makes the controls look less noticeable, making patients more comfortable and less frightened. The contemporary, European style of ErgoStyle tables ensures your table will complement your decor no matter what- they never go out of style.
How do I decide what Chattanooga Ergostyle table to purchase?
All ErgoStlye are state of the art tables that will add so much value to each chiropractor and their practice.
ES HYLO- EH9510
The Chattanooga ES - ErgoStyle™ HYLO reinvents today's adjusting table with numerous upgradeable features. Our base table expands your practice with its advanced tilt mechanism, featuring a controlled safety system and constant tilt speed. Upgrade your options by adding power chest and pelvic extension (extends 14.5") with single side control; our patented, free-falling Accelerator™ III Manual Cocking Drops foot controls; and super silent air compressor options.



Base Chattanooga Ergostyle Features

Fixed Table Height: 23.5"
Table Length Adjustment: 54" - 83"
Tilting Degrees: 0 to 63 degrees
Tilting Mechanism: Gear drive hydraulics with a "soft stop" in the down position
Constant Tilt Speed with Automatic Weight Compensation, regardless of patient's weight and height (tilt speed up, 9 seconds; tilt speed down, 11 seconds)
Controlled Safety System: 2-step tilt-down control
Stationary Chest and Fixed Pelvic Section
Fixed Ankle Rest with foldaway footplate
Wide Seamless Cushions (23.5") with multidensity foam
Durable Powder-coated Finish

Table Specifications:
Lifting Capacity: 400 lbs.
Table Weight: 405 lbs.
Table Dimensions: 54" - 83"
Rated Voltage: 115/230 V
Rated Frequency: 60/50 Hz
Current: 5.8/4.8 A
Electrical Class: Class 1, Type B
Duty Cycle: 10%
Pump Type: Hydraulic Gear Pump
Shipping Weight: 540 lbs.
Shipping Dimensions: 89" L x 31" W x 31" H
Chattanooga ES -
FX- ES5820 Flexion Table
The new design of our Chattanooga Ergostyle FX Flexion table offers full, ultra-smooth counterbalanced flexion, distraction or circumduction, effortlessly meeting the core needs of your practice. Manual flexion/distraction is built right in, with infinitely variable electric spring tension so you can move the caudal section in any direction with just the touch of a finger. For added flexibility, the table also quietly elevates from its lowest height (19") and to its full height of 32". The fully modular design allows for upgrades now or in the future, including three drops, auto-cocking, auto flexion, headpieces, chest pieces (including long axis distraction), dual auto-cocking foot control, dual elevation foot control, dual tension foot control, T-bar handles and super silent air compressor options.

Base Table Features
Electric Elevation from 19" to 32" with single foot control and expanding covers over lifting mechanism
Manual Flexion/Distraction (flexion, 15 degrees; extension, 12 degrees; side bending, 40 degrees total)
Tilting Headpiece with Adjustable Face Cushions
Extending Self-locking Ankle Rest with Ankle Cuffs
Wide Seamless Cushions (23.5"), with multidensity foam
Durable Powder-coated Finish

Table Specifications
Lift Capacity: 400 lbs.
Table Length: 69.5" to 76"
Voltage: 115 V - 230 V
Frequency: 50/60 Hz
Shipping Weight: 460 lbs.
Shipping Dimensions: 89" L x 31" W x 31" H
Chattanooga ES - ES2000 Elevation Table
The ErgoStyle ES2000 Gen III takes the table you know one step further, with smooth electric elevation and easy upgrades so you can customize your table to your practice setting. Our patented ErgoStyle drop elevates across the entire cushion, rather than a single pin, allowing for improved accuracy and a smoother adjustment with less force--for less stress on you and your patient. It's also fully modular, allowing for easy modifications and upgrades in the field, both now or later as your techniques and practice grow. Choose from drops, auto-cocking, head pieces, chest and pelvic elevation, dual foot pedal elevation (standard with auto-cocking drops) and super silent air compressor options.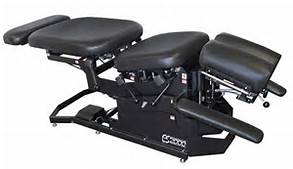 Base Table Features
Electric Elevation from 20" to 31" with single foot control and expanding covers over lifting mechanism
Tilting Headpiece with Adjustable Face Cushions
Wide Seamless Cushions (23 inches, or 58 cm), with multi-density foam
Locking 6" Extending Ankle Rest
Single Foot Pedal Elevation, 120 V (plastic)
Stationary Chest
Fixed Pelvic Section
Paper Roll Holder and Cutter
Durable Powder-coated Finish
Table Specifications
Lifting Capacity: 400 lbs.
Rated Voltage: 115 V/230 V
Rated Frequency: 60 Hz/50 Hz
Current: 2.7 Amp
Duty Cycle: Intermittent-Max: 1 minute, on; 19 minutes, off
Shipping Weight: 410 lbs.
Shipping Dimensions: 89"L x 31"W x 31"H

Chattanooga ES -ErgoBasic- EB9040 Soft Foam (EB9050 Firm Foam)
Sleek, elegantly simple, yet still affordable, the Chattanooga Ergostyle Soft Foam offers a critical mix of adjusting features that is praised by many practitioners. A tilt headpiece and Accelerator™III pelvic drop come standard. Optional extras include various headpieces, featuring operation of tilt, an adjustable face opening, forward drop, elevation and toggle drop. The Chattanooga Ergostyle is also available in soft and firm foam





ErgoBasic Firm Foam Features:
Height Range: 18" - 24"
Weight Capacity: 350 lbs.
Tilt Headpiece
Accelerator™III Pelvic Drop
Unitized Steel Frame
Seamless Cushions
Paper Roll Holder and Cutter
Shipped Fully Assembled
Recent Posts
Usedchiropractictable.com remains open to serve our customers and help you navigate through the …

Closures and Changes are as follows: Canadian Medical Products (lead wires) will be closed for 2 wee …

Not every chiropractic practice has a Decompression Table. The big question is: Why? Over the p …