Silentaire Compressor 50-15
SKU:

50-15

UPC:

MPN:

50-15

Condition:

New

Availability:

In Stock for quick shipment

Weight:

69.00 LBS

Shipping:

Calculated at Checkout
Frequently bought together:
Description
All Sil-Air compressors are virtually "noiseless" and are totally automatic. Each unit includes a tank and line pressure gauge, line pressure regulator, moisture trap/filter/gauge, safety-valve, air intake filter and A carrying handle or easy rolling for models with wheels. Sil-Air models feature one or more heavy-duty 1/2 horsepower pumps for extra reliability and durability.
Oil Lubricated Silent Compressor
H.P. 1/2 Voltage: 110/60, 230/50-60
Output: 2.15 CFM
Max Pressure: 114 PSI
Operating Pressure: 84-114 PSI
Noise Level: 40 Decibels
Tank Size: 6 Gallons
Dimensions: 15.7x15.7x23.6
Weight: 60 lbs.
Shipping Dimensions: 17x17x25
Shipping Weight: 69 lbs.
FEATURES:
- SILENT RUNNING
- AUTOMATIC OPERATION
- IN-LINE REGULATOR WITH MOISTURE TRAP
- INTERNALLY PAINTED TANK TO PREVENT RUST
- LINE PRESSURE GAUGE
- TANK PRESSURE GAUGE
- THERMALLY PROTECTED
- PORTABLE
Silent Air compressors are known in over 90 countries worldwide. They have been made in Europe for almost 50 years. Silentaire Technology has been distributing them in the North American Market for nearly 20 years.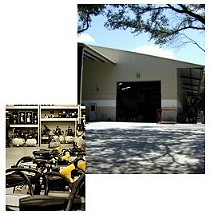 Ongoing R & D has enabled the Silent Air compressor to be a reliable and virtually trouble free product. Our European factory has invested heavily into modern production facilities. They are the largest manufacturer of silent air compressors in the world. With nearly 200 employees, 220,000 sq. ft. of production space, and over 100 different models.

Close cooperation between Silentaire Technology and our European factory assures you of a high quality product. In our 10,000 sq. ft. warehouse we can also customize our products to your exact specifications and needs. Our OEM department is here to assist you.

WE AT SILENTAIRE TECHNOLOGY STRIVE TO:
Pick the right compressor for your needs!

Supply you with high quality and reliable products.

Always give 100% personal effort.

Technical advice on request.

Unmatched Product Support
Chiropractic Table Quiet air Compressor,chiropractic table Compressor,Chiropractic air Compressor Quiet Chiropractic Table Compressor

This site is Owned and operated by Access Equipment Corp.

Bundle your Parts order with Headrest Paper and SAVE on shipping!!! Orders placed after 2pm(Central time) usually ship out next day!
If you are not sure what chiropractic table you need, please give us a call
256-245-8390
View All
Close